If you're planning a kid's birthday party or family gathering and want to entertain them. Look no further than renting a pony ride.
Pony riding is a fun-filled activity that provides an exciting and thrilling experience. If you are planning to rent a pony horse for kids, consider these factors to ensure a safe, enjoyable, and memorable experience. Before diving into these factors, learn a bit about leasing and renting pony rides.
Leasing VS Renting a Pony Ride
Leasing
Leasing refers to acquiring a pony or horse for a long-term period of time. It may last for weeks, months, or even years.  
You become the temporary owner of the horse and are responsible for its care during the lease term.
Renting 
Pony horse rentals are typically short-term arrangements for a few hours or a day. Rental people have no responsibilities. The client pays for horse use charges, including or excluding delivery charges.
————————- Hire Pony ride for Birthday party—————————————-
Factors to consider before renting a pony horse ride
Safety measures:
Safety is the most crucial factor for kids when riding a pony horse. You should ensure that the rental company follows safety guidelines. Provide an attendant to supervise the kids and safety equipment like helmets. Additionally, ensure their ponies are well-trained and suitable for riders of all skill levels.
Pony Temperament
Pony renting is not like renting a house or anything else. Horses have individual personalities; some are more friendly and calm than others. It's critical to find a well-trained, friendly pony that doesn't react to inexperienced riders' antics.
Before renting a horse or pony, it is recommended to meet the horse to know its behavior, personality, and skills.
Well-groomed and healthy
Inspect the pony's condition before hiring. It is important to know that the Rental Company takes care of their animals, maintains hygiene, provides quality food, and performs regular veterinary checks. If you see any signs of weakness, illness, or discomfort, don't rent that pony and ask for a different pony.
Healthy ponies have bright coats, clear eyes, and clean hoves.
Rental costs and availability
Rental cost depends on different factors such as your location, event duration, pony appearance, and delivery charges. Discuss various companies and compare their charges to find one that fits your budget.
It may be someone providing pony rental services at a low price but prioritizing quality and safety. Book or hire pony rides for children; several days before the event to ensure availability.
Rental and ride duration:
Another important factor is the duration of the rental. The duration of a child's ride depends on the rental period. You can estimate how long you need to rent a pony by the number of guests.
Although you can rent for longer durations, a pony rental typically lasts a few hours or more. Therefore, ensure that all your young guests can experience pony horse riding for a specific rental duration.
Company reputation
Research a well-known company that offers pony ride services. Reputed companies provide quality services and enjoyable experiences.
Check customer reviews on social media platforms to know their reputation before making an agreement. Ensure they have an excellent track record of providing safe and memorable childhood experiences. Also, let your community know about the rental company's presence and services.
Attendant
Although it is common to have an attendant with a pony, make sure the attendant is present at the event. The attendant handles the pony, guides the children, and handles all matters. Having a professional attendant can enhance safety and provide an enjoyable experience.
Typically, attendant fees are included in pony rental costs, but you should ask before to avoid misunderstandings.
Capture memories
Preserving memories of pony horse riding will make the experience extraordinary. Events organizers and rental companies also offer photography services. You can contact your rental company to hire a photographer. Pony services do not include photography.
If you are budget-conscious or have a low budget, you can capture images with your phone.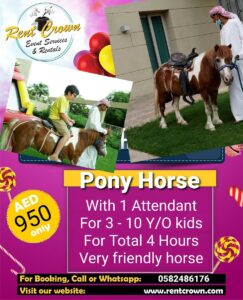 Frequently Asked Questions
Are pony rides safe for children?
Pony rides are safe for children if safety measures are followed. For safety reasons, kids should wear helmets and follow company guidelines. A tamed and friendly pony with an attendant makes the event more secure.
How much does it cost to rent a pony?
Pony horse rental costs depend on different factors like location and riding duration. We at RentCrown offer pony rentals in Dubai for just 950AED with attendants for 4 hours.
Can adults enjoy pony rides?
Yes, but it depends on the pony and the rider's weight. Kids 4 to 10 years of age enjoy pony riding.
What should I wear for horse riding?
Wear comfortable clothing, closed-toe shoes, and a helmet for safety. Avoid wearing loose or flowing garments that may get stuck on the pony.
How much before should I book a pony?
Book your pony ride at least a few weeks in advance, especially during peak season.