Book Magician for Birthday Party
Make your next party unforgettable with Rentcrown's Magician. Our professional magicians will entertain and amaze your guests with their stunning illusions and sleight of hand tricks. From close-up magic to stage shows, our magicians will leave your guests in awe and create a magical atmosphere for your event. Hire magician in Dubai from Rentcrown and add a touch of surpuise and shocks to your next birhday party.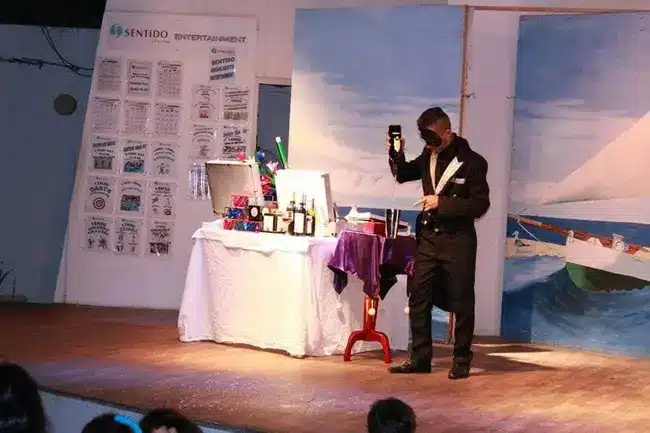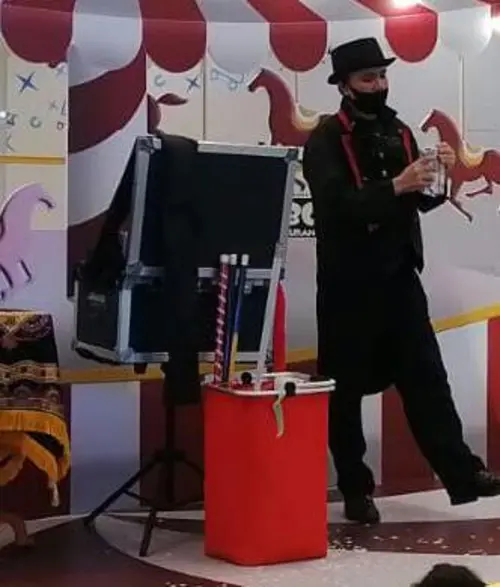 Welcome to RentCrown, a destination to Hire Professional Magicians for birthday parties in Dubai. At RentCrown, we specialize in magic show entertainment and making our valued customer's parties memorable since 2012. We can add a touch of wonder and excitement to your events with our mesmerizing tricks.
Birthday parties feel incomplete and can become boring without entertainment. That's why we offer the best entertainment service – a Magician for Birthday Party in Dubai.
If you are looking for an enchanting way to make your party unforgettable. Look nowhere; hire our magician, who will entertain and shock your audience with his amazing tricks. Imagine the joy and wonder on your child's face, which a magician captivated with mind-blowing illusions and mesmerizing tricks.
Why should you hire a magician for birthday party?
Magicians bring a unique blend of entertainment, wonder, and excitement to any event. Here's why hiring a magician for birthday party is a fantastic idea:
Unique and Memorable: A magician will transform your ordinary party into an exciting and memorable experience for your loved ones and their friends.
Interactive and Engaging: Our magicians don't just perform; they involve the kids in their tricks to make an interactive and engaging experience. Your little guests will feel like they are part of the show, amazed at how the magician manipulated objects in front of their eyes.
Suitable for All Ages: The Magic show is perfect entertainment for people of all ages, making it ideal for family-friendly events. Whether it's children or adults, a magician can captivate and amaze any audience.
Flexible and Adaptable: Magic Show is compatible with any kind of event, whether it's a birthday party, family gathering, corporate event, or any other venue.
Why Choose RentCrown Magician for birthday party?
Our professional magicians have a proven track record of delivering outstanding performances, ensuring a seamless and magical experience for you and your guests.
Our magicians perform a diverse range of acts, from classic sleight of hand to mind-boggling illusions that cater to different tastes and age groups. However, the magic show style can be customized to fit the party theme.
Upon hiring RentCrown, you can expect reliability. Our magicians arrive fully prepared on time to weave the magic and create an unforgettable experience.
Planning entertainment for a birthday party can be overwhelming, but by hiring our magicians, you can plan a stress-free event and enjoy the celebration.
We offer affordable packages with transparent charges so everyone can plan a magical birthday for their loved ones.
Make your birthday party special by adding magical excitement. "Hire Magician for Birthday Party" from RentCrown and get professional, reliable, and stress-free services that guarantee the celebration will be remembered for a long time. Our affordable packages make it easy to add magician entertainment without exceeding your budget. Don't wait any longer; give us a chance to make your event memorable.
How long will the magician perform?
Our magician typically performs for 30 to 40 minutes, depending on preferences, and ensures perfect entertainment without losing the audience's attention.
Can the magic show be customized to match my party theme?
Yes, our magicians work closely with the client's preferences to match the nature of the event.
What setup is required for the magician's performance?
Our magicians are self-sufficient and require minimal setup. They just need a dedicated performance area with good visibility for the audience.
How much does the magician charge for birthday parties?
For birthday parties in Dubai, our magician charges 600 AED for a performance lasting 30 to 40 minutes.